A great packrafting loop in South Westland, with lowland forest, off-track navigation a lake crossing and three different rivers, (and maybe even the Tasman Sea) all in one (longish) day. And the best part? It brings you back almost to the start point, where there's great fish n' chips (In Jackson's Bay at the Cray Pot) to be had to celebrate your day..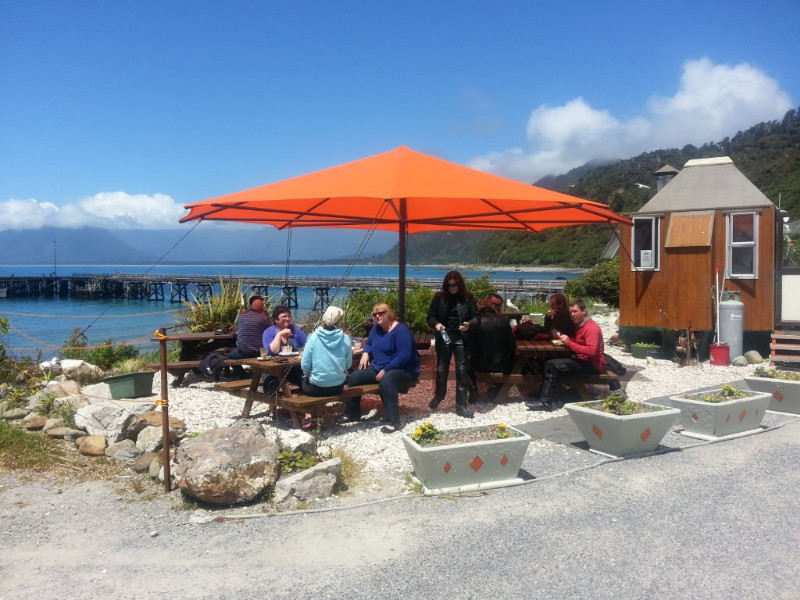 Planning the take-out
The trickiest bit is deciding where you'll take out.
View Larger Topographic Map
One you exit Lake Ellery there are quite a few options, and really depends on how early you start, how far you want to go and how much light you have left: this loop is a reasonably long day however you do it. Options from shortest to longest include:
Jackson River road bridge (at the exit of Lake Ellery), or anywhere until the Arawhata Bridge. The road is close by on this stretch and take outs are visible as you drive along. Makes for a shorter day, but you'll probably want a bike for the shuttle.
Arawhata true left bank: , There are a number of unformed legal roads (ie, public walking access) but several of them look like entrances to private properties. Take a good look at the satelite imagery and the Herenga ā Nuku / Walking Access maps before hand, for when you're looking in location. None of these spots are super obvious and will need a little research.
Neils Beach: At the true left, just before the river mouth, there's a beach where you can take out, and wander a couple of hundred meters along Neils Beach to Neils Beach Rd (car access). This is a narrow road, and parking is limited, but plenty of spots to stash a bike and wait for a shuttle. The mouth could be quite dangerous if the seas are rough, factor the swell and wind into your choice if you want to use this options. Much longer day (the Arawhata can be slow, especially with afternoon headwinds), but short shuttle.
Jackson's Bay: If the Tasman is inviting, you could always portage the Arawhata Bar, launch in the surf, and paddle with seals (and the things that like to eat seals) directly to the fish n' chip shop. The road here is coastal and easy enough to access (in gentle seas). This is definitely the adventure-racer option (ie, LOOOONG)
The approach on foot
Jackson's Bay to the put in
The trip begins at a large DOC sign (with parking space). After a steep, rough start, the track gently continues to the Smoothwater River.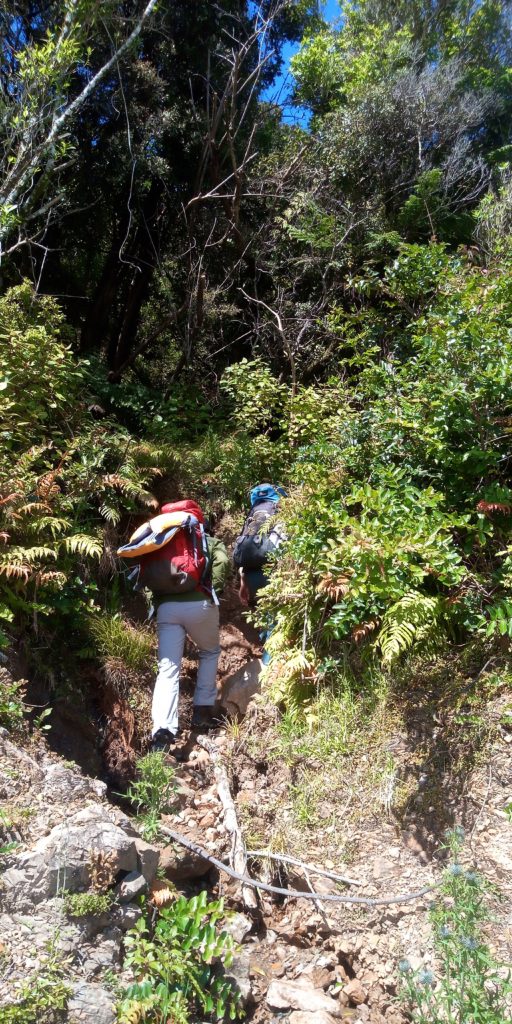 Follow the Smoothwater easily up-river, until you're nearly at Macfarlane Pass. Worth a moment here to eat, hydrate and fill up water bottles; there's not much for a while afterwards.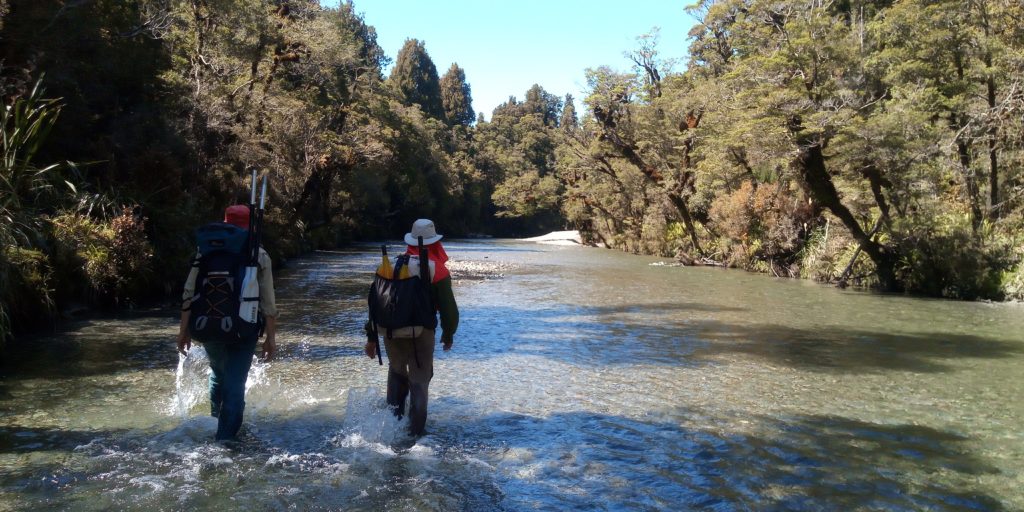 From here, the trick here is to pick your bush-bash line giving you the shortest distance to the Ellery headwaters.
Using your off-track navigation skills, head over to the Ellery River. It is so small in the headwaters, that you might even miss it, but keep navigating until you're in the 'river' and follow it downstream. The river here is choked with logs and strainers up here, but is just deep enough that you want to avoid crossing it too much. Certainly a pleasant dose of south-westland bush-bashing ;0)
Times: we took 1h45m from the carpark to the start of the bushbash, then another 2hrs to where we could put in.
Ellery Creek (I-)
We finally found enough water to justify blowing the boats up near the .67 feature. Its a a fun, shallow, float through gorgeous forest, to reach Lake Ellery, allow 45mins to 1.5hrs.
Lake Ellery crossing
There's nice beaches at the Ellery River mouth for a break, and to prepare for the crossing.
Whilst its not serious whitewater, a 4.6km lake crossing is not something to take lightly. Winds can whip up descent waves, unstabilise a paddler as well as be a frustrating headwind. The major danger here is a capsize, and a boat that blows away faster than you can swim to get back in. There's lots of good reasons not to tie a leash between you and your boat (entanglement during capsize). Howver, loosing your boat and bobbing about without a drysuit in the middle of the lake in wind and chop, your survival time won't be particularly long.
So factor that in when considering drysuits, leashes, weather forecasts…
It took us just over an hour with light crosswinds to cross the lake.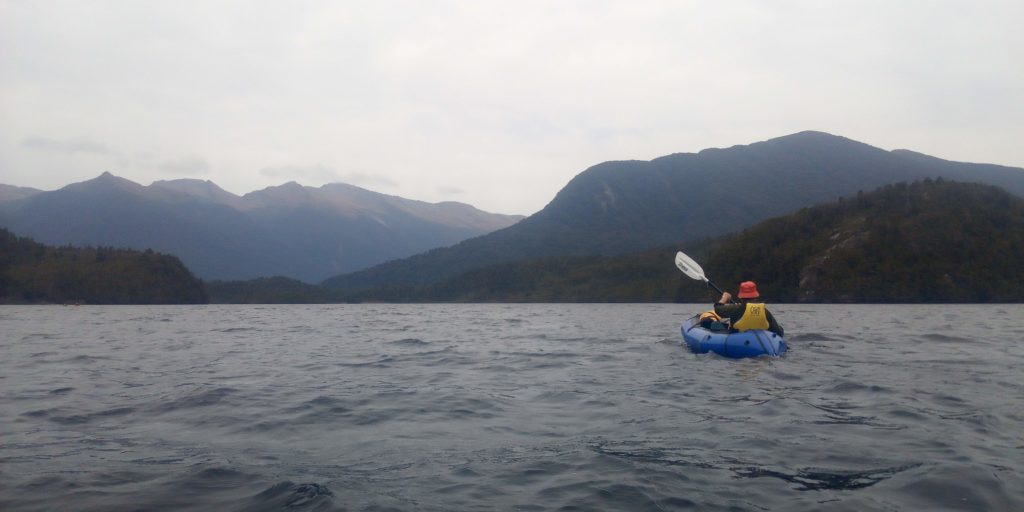 There's a wee picnic table on the true right of the Ellery outlet, just on the lake-facing side. There are small bluffs at lake level, and its a bit of a scramble to get up, but it does give access to the Lake Ellery Track, if you had to take out for any reason.
Lake Ellery outlet (I+)
Its more of a fast flowing canal than your average river, but there's plenty of log/strainer hazard to avoid. Although just grade I, this isn't a spot to take first timers; you need to reliably move the boat to avoid the hazards.
Jackson River (I+)
The Jackson has wave trains and minor features, but mostly you'll be looking up-valley to admire the mighty peaks of the Arawhata valley.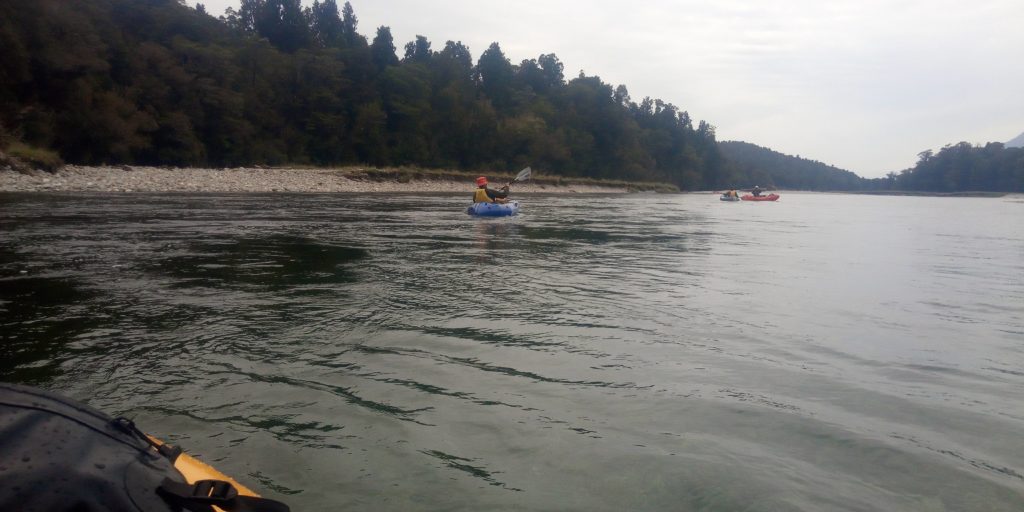 Arawhata River (I)
There's a fair bit of water in the Arawhata, so the Jackson-Arawhata confluence has some eddy-lines which could tip you if you're too busy looking at the view…
The Arawhata gets a mean sea-breeze/valley-breeze in sunny days during spring/summer. So it can be quite a slog if you've timed it this way… But we were paddling down as the sun was low in the sky and got a bit of a tail wind.
This is when you'll be glad you scouted the take-out, (maybe even made a GPS waypoint) as it all looks a bit similar from the water.
Jetboats, trees and whitebaiters are the main hazards here.
Apres packraft
The Cray Pot in Jackson's does excellent fish and chips: seasonal opening hours, so check in advance.
Hard Antler in Haast does good burgers and beer. You won't see Burgers on the menu after 5pm, but if you ask the staff really nicely, I've usually had success in getting one… Otherwise enjoy the other pub-restaurant meals.
Gauge
Nah bro…
This trip would work at any flow apart from extreme drought or biblical flood. Both these things happen on the 'coast so check the weather in the day's prior before you head off.